Cardano Q2 Surge: Stablecoin Soars, TVL Skyrockets, And Dapp Transactions Hit Record Highs
Cardano (ADA), the blockchain platform renowned for its scalability and technological approach, has made significant strides in the crypto market, as highlighted by the recently released Messari report. 
The report provides valuable insights into Cardano's achievements in Q2 2023, solidifying its position as a prominent player within the industry. 
With a strong focus on fostering a robust ecosystem and pushing the boundaries of decentralized finance (DeFi) and non-fungible tokens (NFTs), Cardano is poised to reshape the landscape of blockchain technology, according to Messari. 
Cardano TVL Ranking Skyrockets, Climbs From 34th to 21st
Per the report, Cardano experienced substantial growth in stablecoin value, with a 34.9% quarter-over-quarter (QoQ) increase and a significant 382.1% year-to-date (YTD) surge. 
Indigo Protocol emerged as a frontrunner in stablecoin and synthetic asset issuance, solidifying its dominance in the space. Furthermore, the Total Value Locked (TVL) witnessed a shift towards newer projects, as protocols created in the past six months accounted for 47.4% of TVL dominance in Q2. 
The TVL in USD rose by 9.7% QoQ and 198.6% YTD. Cardano's TVL ranking climbed from 34th to 21st across all chains in 2023.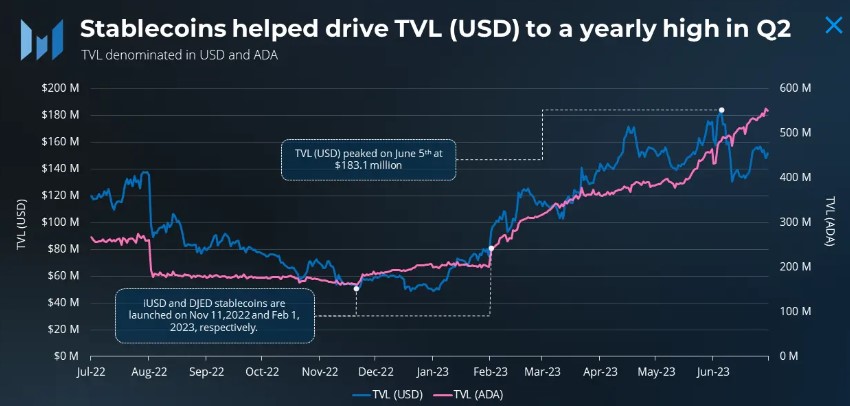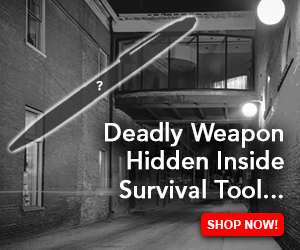 On the other hand, average daily decentralized application (dapp) transactions on Cardano surged by 49% QoQ, marking the third consecutive quarterly increase. Moreover, Minswap, an automated market maker (AMM), showcased the largest absolute growth in transaction volume. 
However, several new dapps also contributed to the overall surge. Minswap's popularity soared in Q2, surpassing the leading NFT marketplace jpg.store regarding dapp transactions. 
This trend aligned with the sectoral shift, as DeFi activity gained momentum while NFT activity experienced a decline. The overall increase in dapp transactions reached a substantial 49.0% QoQ, averaging 57,900 daily transactions.
Q2 NFT Metrics Reflect Market Correction
According to Messari, NFT metrics experienced a decline in Q2. Average daily NFT transactions dropped by 35.7% QoQ to 2,900, while the total quarterly trading volume fell by 41.9% QoQ to $46.2 million.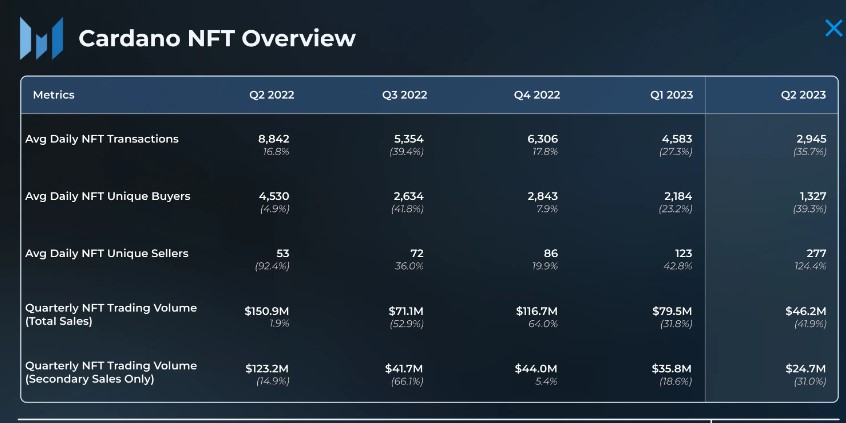 This downward trend aligned with the broader market, as even blue-chip collection floor prices declined in 2023. 
Notably, NFT sales volume remained concentrated primarily in jpg.store, which dominated the marketplace with a 98% market share. Nevertheless, unique buyers continued to drive NFT activity, while a relatively small number of sellers catered to this larger pool of buyers.
Messari further highlights that Cardano's ecosystem showcased expansion in multiple sectors, particularly in DeFi. Protocols for swaps, stablecoins, synthetics, and unique Cardano-centric services like lending staking power surfaced alongside the incumbents. 
Cardano's second quarter showed substantial growth and diversification across various sectors, including DeFi, NFTs, and Layer-2 solutions. 
Key statistics revealed a surge in stablecoin value, a shift in TVL dominance towards newer projects, and an impressive increase in average daily dapp transactions. 
While NFT metrics experienced a decline, the ecosystem demonstrated resilience and competition among protocols. 
In contrast, Cardano's native token, ADA, has been experiencing a decline in line with the broader market trend since April 15, after reaching its yearly peak of $0.4620.
ADA is trading at $0.2933, reflecting a 1.4% decrease in the past 24 hours. Over the last fourteen days, it has declined nearly 6%.
Featured image from iStock, chart from TradingView.com