Ethereum Transaction Fees Hit May 2022 Highs, What This Means For ETH?
Ethereum transaction fees are once again hitting highs last seen since May 2022. This development has raised concerns about the impact on the Ethereum network usage and its native cryptocurrency, ETH.
Ethereum, the second-largest crypto by market capitalization, is one of the leading decentralized finance (DeFi) and non-fungible tokens (NFTs) platforms. The network has been experiencing a surge in activity due to the increasing popularity of memecoins such as PEPE, which has caused fees to spike.
Rising Transaction Fees: A Cause For Concern
On May 2, the median average transaction fee on the Ethereum network soared to around 87 gwei, according to Dune Analytics. This spike was mainly attributed to the increased on-chain activity surrounding memecoin trading, according to Hildobby, a pseudonymous data researcher at VC firm Dragonfly.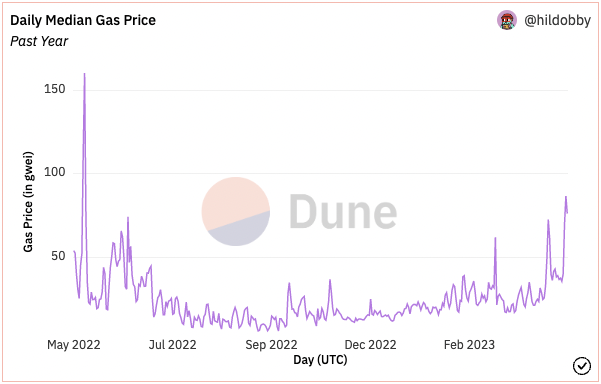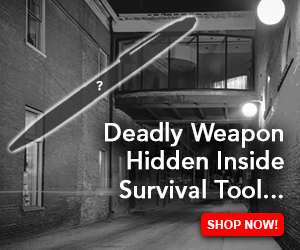 Memecoins such as Pepe the Frog-themed token have been enjoying a renaissance recently, with the token price soaring over 266 times in just four days in April. The memecoin's market cap rose to over $500 million this week before crashing below $400 million again.
While this surge in activity may indicate increasing interest in the crypto market, it also highlights concerns about the network's scalability and the impact of rising fees on users. High transaction fees can deter users from interacting with decentralized applications on the Ethereum network; as the fees increase, smaller users are priced out of the platform and its applications. 
Notably, the rise in memecoin trading activity, which increased the number of transactions on the Ethereum network, leading to a surge in fees, has also made decentralized exchanges (DEXs) on Ethereum experience the highest level of users since 2021. 
Dune Analytics data shows that Ethereum-based DEXs saw a surge in volume, with the total trading volume on these platforms surpassing $63 billion in April alone. This represents a significant increase from March, when the total trading volume was around $31 billion.
What This Means For ETH
It is worth noting that the rising transaction fees on the Ethereum network are seen as a disadvantage to the value of ETH, as users may seek alternative blockchains with lower transaction costs. An instance of this is the increasing interest in other L1 blockchains such as Solana (SOL), Cardano (ADA), Fantom (FTM), and so on.
However, Ethereum co-founder Vitalik Buterin recently suggested that the network could quickly scale up to 100,000 transactions per second. This could help alleviate network scalability concerns and reduce transaction fees.
Regardless, the increased activity may be a positive sign of growing interest in the crypto market; but it has an expensive price tagged. The rise in fees could discourage smaller transactions and lead to a decline in demand for ETH. 
Wwith Ethereum's scalability improvements in the pipeline, it remains to be seen how the network will evolve in the coming months. Meanwhile, ETH price has declined 0.4% after a potential surge to trade above $2,000, last month.
ETH currently trades for $1.872 at the time of writing. ETH has a 24-low of $1,855 and a 24-high of $1,919, according to data from CoinMarketCap. Regardless of the market decline, the asset's trading volume has only ranged between $8 billion and $9 billion in the past two weeks.
Featured image from Shutterstock, Chart from TradingView