MATIC Could Target $1.40 If Bullish Momentum Continues
MATIC has seen significant price growth over the last 24 hours, following a period of strong bearish influence in the past week. On the daily chart, the altcoin surged by almost 6%. At present, MATIC is trading above its $1.07 support line.
Over the last week, MATIC fell by 3%, but with Bitcoin rising on the chart, most altcoins have been attempting to break past their immediate resistance levels. The technical outlook for the altcoin has improved, but sellers still appear to have the upper hand.
Demand has risen slightly, which is also reflected positively in the accumulation. Buyers will gain force if MATIC tries to breach the immediate resistance level. The overhead resistance is a crucial price mark for the altcoin, as surpassing it could propel the price to $1.40
If MATIC stays above the $1 level, the bulls will consistently try to push the price north. The market capitalization of MATIC has improved, reflecting that buyers are attempting to re-enter the market.
MATIC Price Analysis: One-Day Chart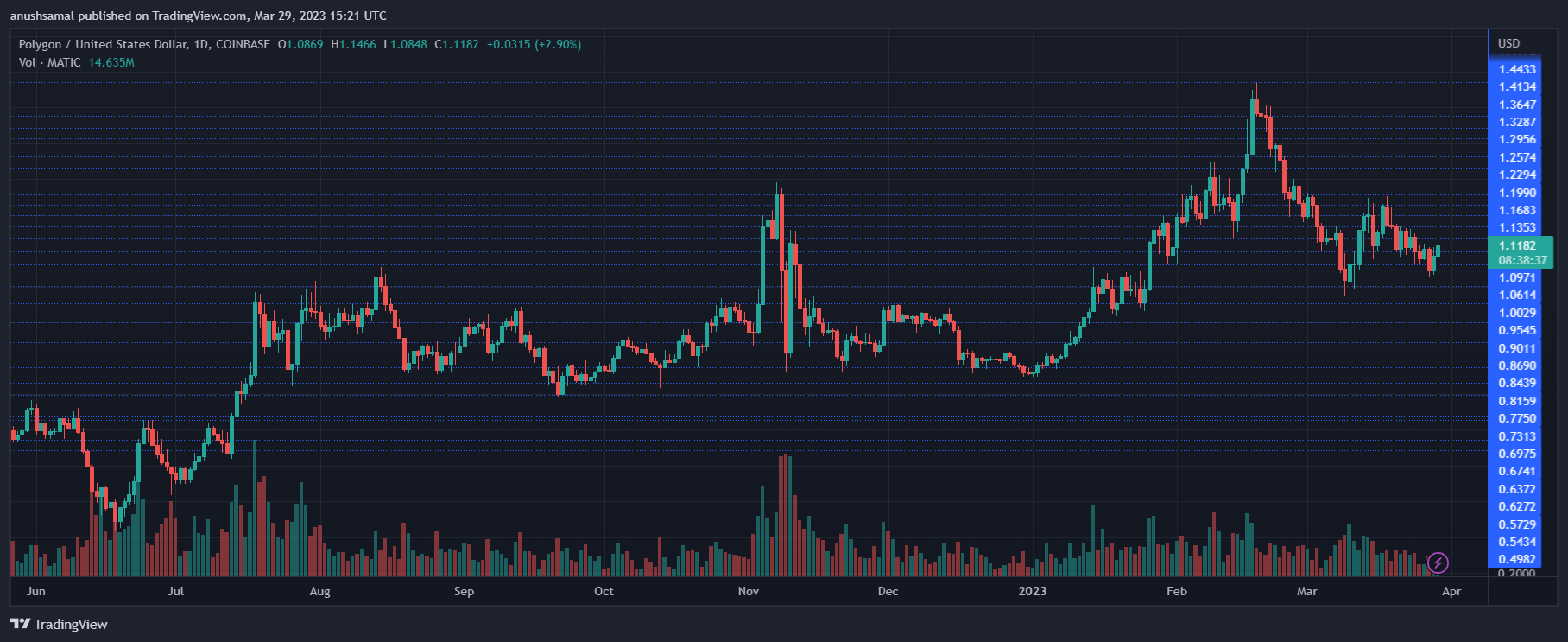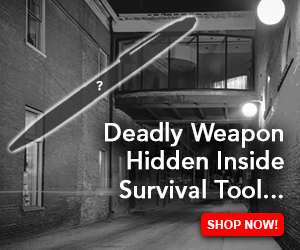 At the time of writing, Polygon was trading at $1.11. The altcoin has broken past the vital price resistance mark of $1.09, which has now been flipped into a support line. However, $1.09 is not the closest support line for MATIC; local support still stands at $1.07.
If the price falls below $1.07, it could drop to $0.96. On the other hand, if MATIC breaks past the overhead ceiling of $1.19, the bulls will have the potential to push the price past $1.40. The amount of MATIC traded in the last session turned green, reflecting increased demand.
Technical Analysis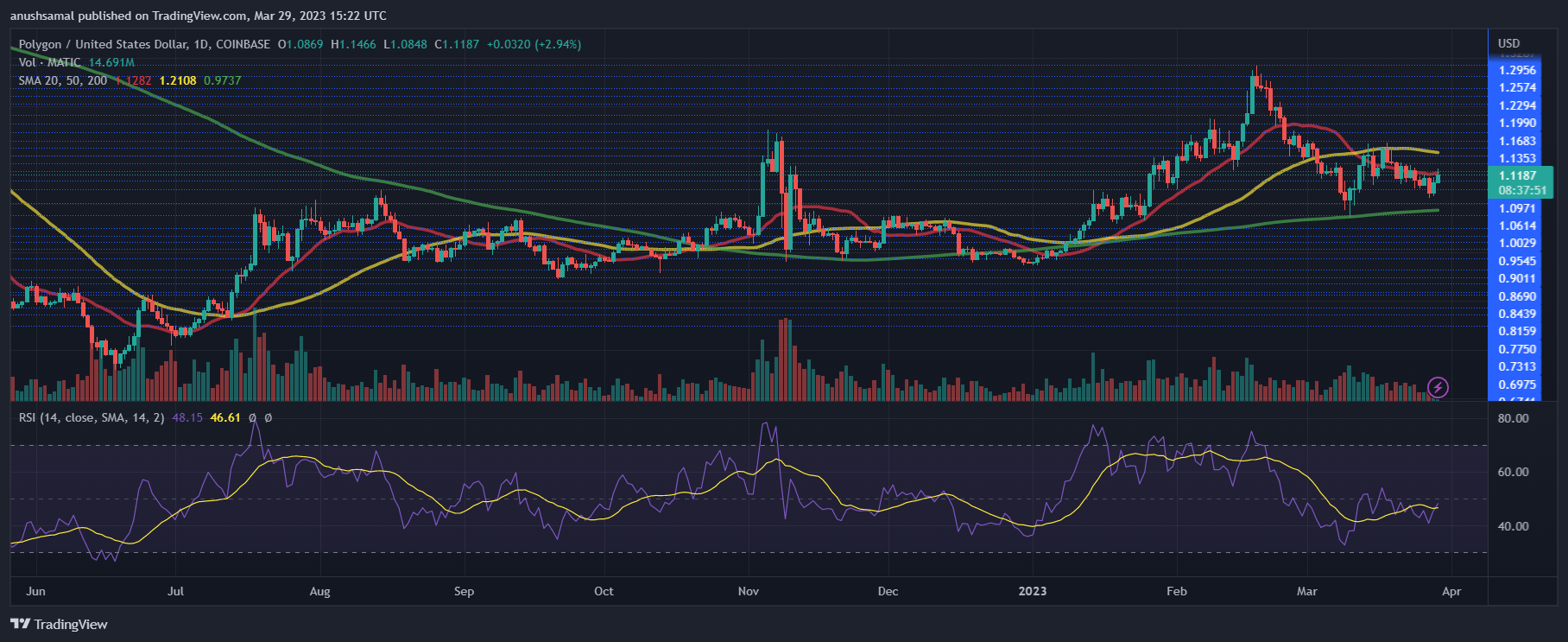 Buyers began showing confidence in the asset as it showed signs of recovery. The Relative Strength Index experienced a slight increase and moved closer to the half-line, indicating that buyers were attempting to enter the positive zone.
However, despite the increase in buying strength, sellers still had the upper hand. MATIC was trying to surpass the 20-Simple Moving Average line due to the growing demand, but at the moment, the price momentum was being driven by sellers.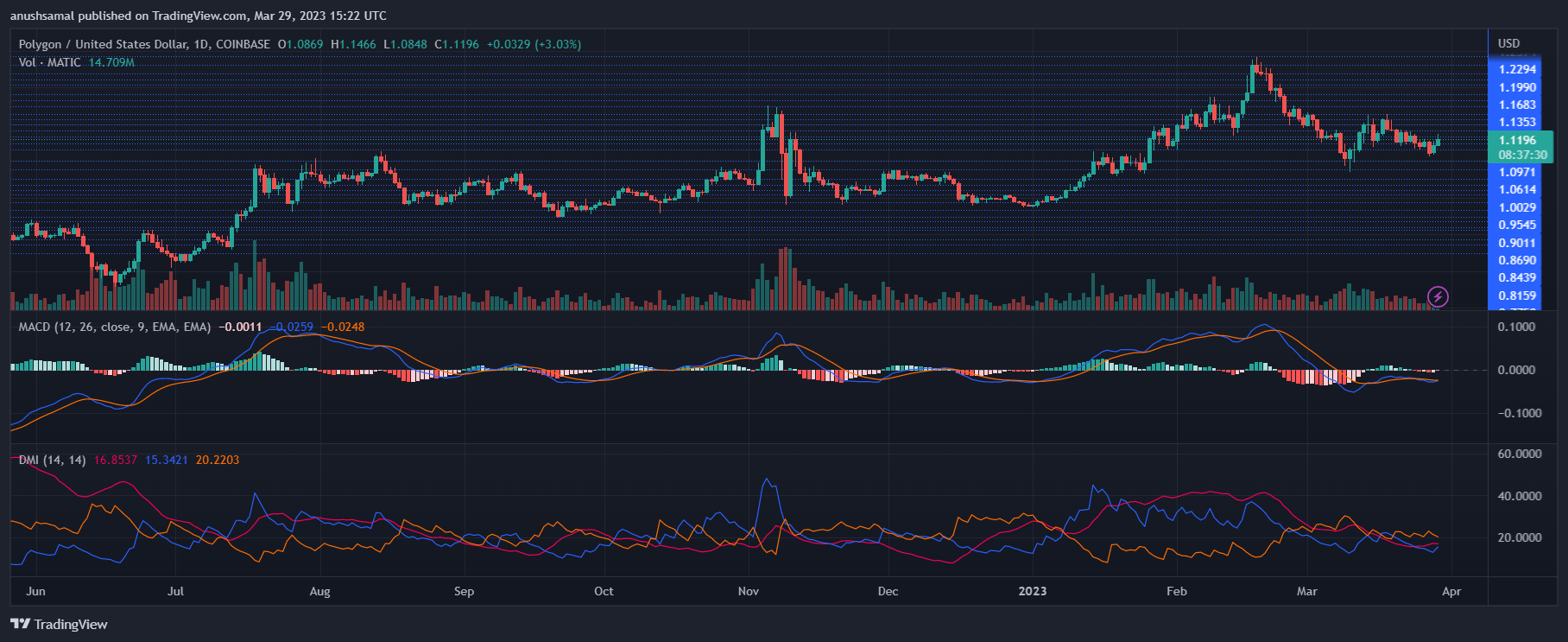 Although some technical indicators have shown some improvement, they remained negative. The Moving Average Convergence Divergence indicated sell signals with red signal bars, implying a negative trend.
The Directional Movement Index also showed negativity, as the -DI (orange) line was above the +DI (blue) line, indicating that the price direction had yet to gain any optimism at the time of writing. The Average Directional Index was below 20, indicating a lack of strength in the price direction.